Innovative and individual cooling solutions
EFE heat sinks are designed in consultation with the customer. Depending on stated thermal performance, water quality specifications and design considerations, we create an individual heat sink for the respective cooling scenario, e.g. frequency converters, power resistors, high-wattage LEDs, rectifiers for e-mobility charging stations, cooling sleeves for HF drives, wind power rotors and generators.
We distinguish between the following design variants:
Cold plate heat sinks serve as a mounting base in the control cabinet. The electrical components are mounted directly on the cold plate by the installer. A choice of enclosure widths is available.
Our in-house heat sinks are delivered to the electronics manufacturers where the components are pre-mounted. The installer receives a finished product which can be integrated directly into the new or existing system.
Unique technologies for high-performance electronics
EFE has maintained its leading position in high-performance electronics since 1994. This has been achieved primarily through the unique technology of its heat sink design, which results in a significant improvement in thermal performance and cooling efficiency as well as the elimination of unwanted heat transfer.
If required, the secondary cooling of other modules such as inductors, contactors and miscellaneous electronic components can be realised by means of special convection fins via air ducts in the environmentally friendly circuit for the cooling process. This configuration guarantees that not only the inverters but the entire control cabinet is kept cool.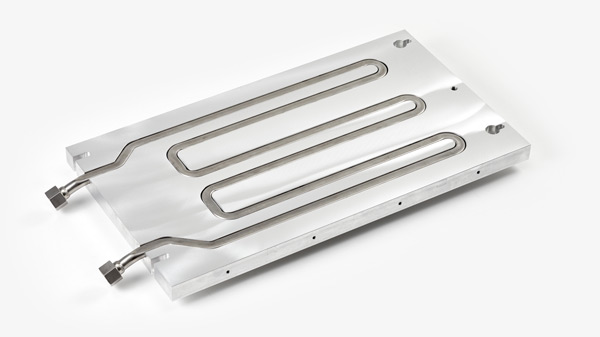 Rolled metal heat sinks
Stainless-steel tubing rolled into an aluminium plate as a water-carrying element
Individual finishing of the aluminium plate for a unique cooling solution

Batch sizes as small as one

High resistance to hydrochemical reaction

Optimum production throughput

Maximum resistance to corrosion
Really cool ideas!
Are you looking for an appropriate solution for heat dissipation problems arising from electronic components?
We plan, develop and manufacture your individual heat sink solution.
From the first friendly consultation to professional design and production in accordance with our rigorous quality standards, we are your dependable expert partner.